New book on treating psychosis that has a local connection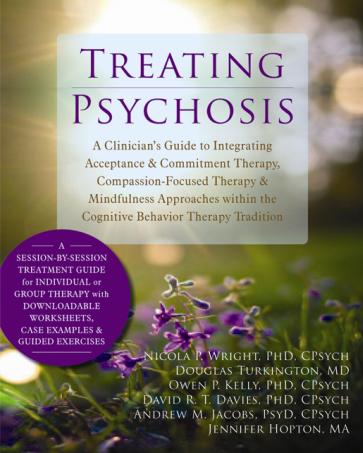 The book, Treating Psychosis: A Clinician's Guide to Integrating Acceptance and Commitment Therapy, Compassion-Focused Therapy, and Mindfulness Approaches within the Cognitive Behavior Therapy Tradition, has been recently released. Although psychosis is not an area I have done much work in, I've been fascinated by the work researchers and therapists have been doing in the area of psychosis and compassion-focused therapy. The authors of the book are Nicola P. Wright, Ph.D., C.Psych; Douglas Turkington, M.D.; Owen Kelly, Ph.D., C.Psych.; David R. T. Davies, Ph.D., C.Psych.; Andrew M. Jacobs, Psy.D., C.Psych., and Jennifer Hopton, M.A.. Most of the authors work in Ottawa, Ontario; hence the local connection. Noteworthy,
To support services for psychosis, the authors have pledged to donate a part of their proceeds from the sale of this book to the Royal Ottawa Health Centre "Client Empowerment Project for Psychosis" and the Ottawa Chapter of the Schizophrenia Society of Ontario. —Source: treatingpsychosis.com
Excerpts from the website, which describe the book include
Treating Psychosis is an evidence-based treatment guide for mental health professionals working with individuals affected by psychosis. Using a cognitive behavioral therapy (CBT) approach that incorporates acceptance and commitment therapy (ACT), compassion-focused therapy (CFT) and mindfulness approaches, this book is invaluable in helping clinicians develop effective treatment for clients affected by psychosis. The guide provides session-by-session clinical interventions for use in individual or group treatment or on an inpatient, outpatient, or community basis….The guide emphasizes a compassionate, de-stigmatizing approach that integrates empowering and strengths-oriented methods that place client's values and goals at the center of any therapeutic intervention. —treatingpsychosis.com
The website that complements the book is definitely worthwhile exploring (treatingpsychosis.com). It is intended to provide helpful resources for those living with psychosis, as well as family members, friends, and clinicians of those affected by psychosis. You can find two chapters not included in the print version of the book that are available to download, as well as numerous other resources including websites, books, apps, and videos.
I would like to offer congratulations to all the authors on the development and publication of this book. Thank you for the work that you do.
Posted in Announcements and Reminders, Articles, Compassion, Counselling Reflections & Skills, Downloads, External Resources, For carers, Mindfulness
Tagged Acceptance and Commitment Therapy, Books, Compassion-focused therapy, Psychosis, Websites
« Last post
Next post »